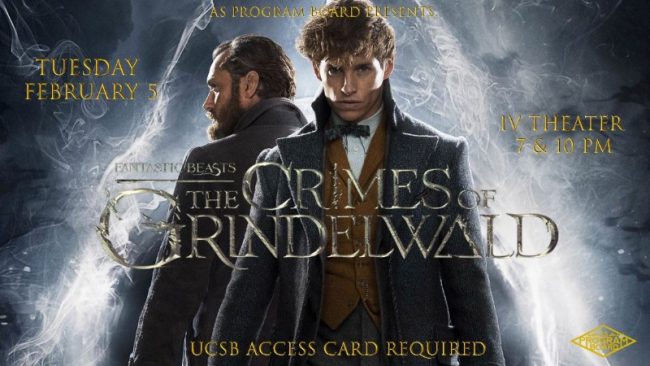 AS Program Board Presents… a free screening of Fantastic Beasts: The Crimes of Grindelwald
Come out to the 7 or 10 o'clock showing for next week's Free Tuesday Film! Bring snacks, friends, and most importantly your ACCESS CARD for a good time and a great movie!
Warner Bros. Pictures' "Fantastic Beasts: The Crimes of Grindelwald" is the second of five all-new adventures in J.K. Rowling's Wizarding World™.
At the end of the first film, the powerful Dark wizard Gellert Grindelwald (Johnny Depp) was captured by MACUSA (Magical Congress of the United States of America), with the help of Newt Scamander (Eddie Redmayne). But, making good on his threat, Grindelwald escaped custody and has set about gathering followers, most unsuspecting of his true agenda: to raid pure-blood wizards up to rule over all non-magical beings.
The film features an ensemble cast led by Eddie Redmayne, Kathrine Waterston, Dan Fogler, Alison Sudol, Ezra Miller, Zoë Kravitz, Callum Turner, Claudia Kim, William Nadylam, Kevin Guthrie, Carmel Ejogo, Poppy Corby-Tuech, with Jude Law and Johnny Depp.