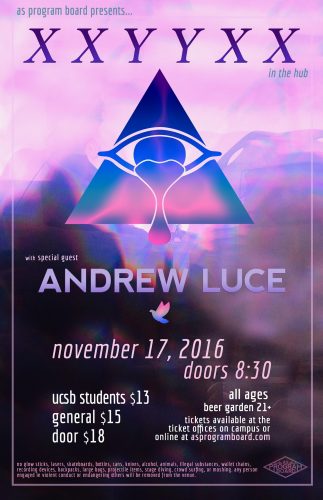 AS Program Board Presents… XXYYXX with special guest Andrew Luce in the Hub Thursday November 17th! Tickets go on sale November 10th at 10AM and will be available for purchase at ticket offices on campus and online for an additional fee. This concert is open to the general public, and will include a Beer Garden for those 21 and up.
Ticket prices: $13 Student // $15 General Admission // $18 Door
XXYYXX is the electronic project of Orlando, FL's Marcel Everett. Starting purely out of experimentation, Marcel's taste for electronic music has evolved from the low-fidelity of vintage sounds to crisp and clean scenes of serenity. Improvisational jazz and abstract hip hop serve as worthy emblems of inspiration. His productions take steps across a unique spectrum of bass-heavy sounds with experience in minimalist ambience. Provoking a myriad of images, the music is meditative and emotive. R&B rhythms and soulful melodies are staples that propel the music forward, creating open environments that feed into moments of movement.
Website:
https://xxyyxx.bandcamp.com/
Facebook:
https://www.facebook.com/frofimusic/
Spotify:
https://open.spotify.com/artist/1iqXhsjGeWi2Gje5q0mFYb
Twitter:
https://twitter.com/xxyyxx
Instagram:
https://www.instagram.com/xxyyxx/
Soundcloud:
https://soundcloud.com/xxyyxx
Very few artists have truly been able to adapt to the constantly evolving electronic music landscape. Fewer have been able to organically rack up over 5.5 million plays, blow the internet away on both original content and remixes, gather support from some of the biggest players in the industry, and make an appearance at the legendary Coachella Music Festival. Still, even fewer have managed to do all of these things before their 18th birthday. Andrew Luce, a Bay Area native, has shown the talent of performers twice his age, making waves with a distinct and well-executed sound design that consistently employs a powerful low end. Whether you're dancing on the floor or trying to impress that special someone back at home, Luce has you covered.
Website:
http://www.andrewluce.com/
Facebook:
https://www.facebook.com/andrewlucemusic/
Twitter:
https://twitter.com/andrewlucemusic
Instagram:
https://www.instagram.com/andrewluce/
Spotify:
https://open.spotify.com/artist/0z7eJBsoFLyZomJS8vQo8R
Soundcloud:
https://soundcloud.com/andrewlucemusic