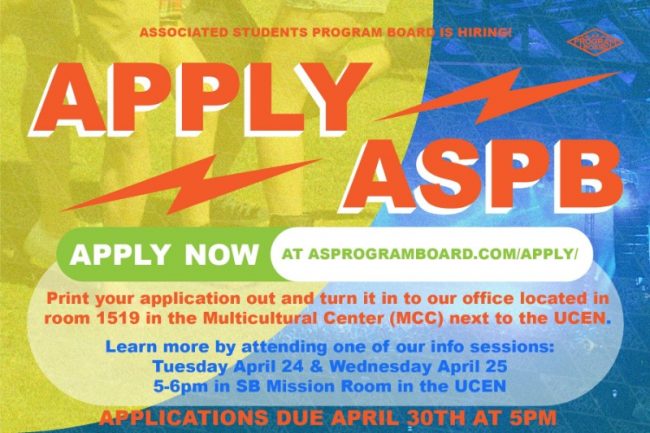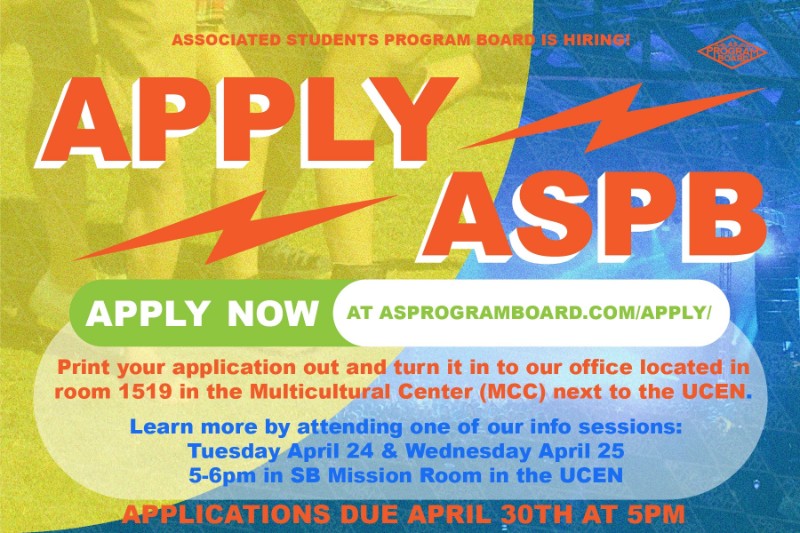 AS Program Board Presents… A chance to join our team! Applications available now thru April 30th at 5pm.
Download your application here:
https://aspb.as.ucsb.edu/apply/
INFO SESSIONS will be held on Tuesday, April 24 and Wednesday, April 25th from 5-6pm in the SB Mission Room in the UCEN! We highly encourage you to attend either info session to meet the faces behind ASPB and to learn more about what we do!
Do you love concerts, films, and events? Did you attend the free Welcome Back Concert with THEY. and our $5 Ecen shows ft. TCHAMI and Vince Staples + Baauer? Have you attended the free Tuesday films in IV Theatre every week or our exclusive prescreenings? Have you been to a HUB show in the UCEN to see artists such as Smino, Khalid, SG Lewis and more? What about the once in a lifetime conversation with Tyler, the Creator?
This is your opportunity to become a part of the team that plans all of these events! Through AS Program Board you can gain valuable experience for a future career in music, entertainment, marketing, graphic design, event planning and coordinating, and much more.
Please turn in completed applications to Room 1519 in the MCC or online no later than 5pm on April 30th!