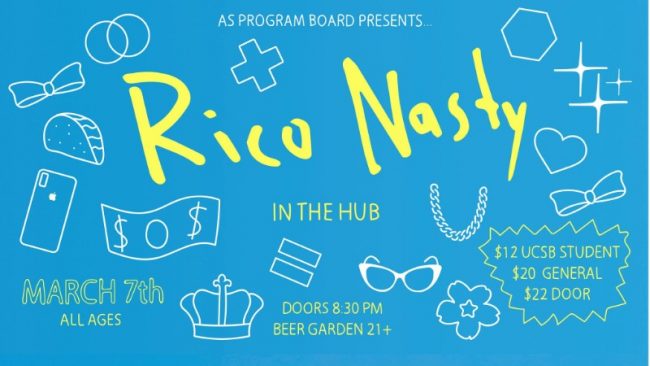 AS Program Board presents… Rico Nasty w/ support on March 7th in The Hub! Doors open at 8:30 p.m.!
Rico Nasty shows no signs of stopping, 2018 saw her launch a massively successful headline tour, selling out nearly every show and turning the rap world upside down. However, the driving engine behind her rapid rise would be the bars—as evidenced by the likes of "Smack A Bitch."
"I've become more accepting of myself. I don't care what other people think about the things I do. I feel like that's good for me to be confident in a respectful way at such a young age. I just need to make good music and put on turnt shows for my fans because they do a lot for me," Nasty says.
2018's major label debut mixtape 'Nasty' made good on that promise. A dizzying display of lyrical fireworks and taut wordplay, Pitchfork awarded it a coveted 8.0 rating and proclaimed it "one of the hardest rap records of the year." Meanwhile, she graced the cover of The Fader in tandem with the release. The record marked a conscious evolution, giving audiences something they hadn't received yet.
Tickets can be purchased online and at the AS Ticket Office (between the MCC and the UCen) on Tuesday, February 12th @ 10:00am.
STUDENT TICKET LINK
GENERAL TICKET LINK
STUDENTS $12 | GENERAL $20 | DOOR $22
BEER GARDEN 21+
spotify:
https://open.spotify.com/artist/2OaHYHb2XcFPvqL3VsyPzU?autoplay=true&v=A
youtube:
https://www.youtube.com/channel/UCINBvWZluLuV4VxNH32OO_Q
instagram: @riconasty