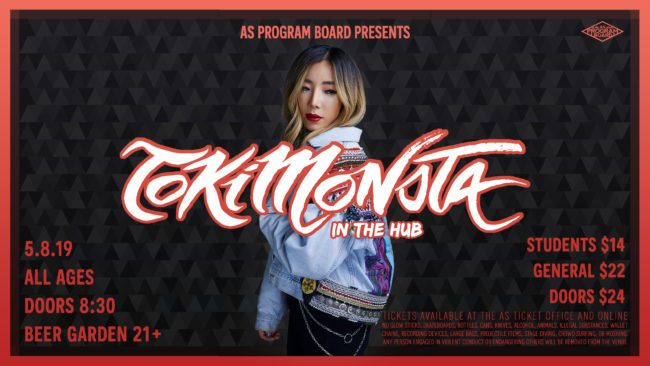 AS Program Board Presents… TOKiMONSTA in The Hub!
Tickets can be purchased online and at the AS Ticket Office (between the MCC and the UCen) ON-SALE: Thursday, May 2nd @ 10:00am.
Ticket Prices: $14 Student / $22 General Admission / $24 Doors (FOR STUDENT PRICING YOUR PERM # IS THE PROMO CODE)
TOKiMONSTA is a Grammy Nominated American record producer and DJ from Los Angeles known for her unique take on indie electronic/r&b/dance music. Her influences are far-reaching — hip-hop, R&B, experimental electronic, classical, K-pop — from which she creates vast textural soundscapes and striking instrumentals.
For nearly a decade, TOKiMONSTA has been working non-stop. After getting her start making beats in her dorm room, TOKiMONSTA became the first female to join Flying Lotus's crew/label BRAINFEEDER in 2010, released an album with Ultra in 2013, started her own label, Young Art Records, in 2014, and notched up a ton of collaborations with artists including Anderson. Paak — all the while touring and dropping new projects and EPs at a consistent rate. TOKiMONSTA was also featured on various large-scale radio programs such as BBC Radio1 (UK), NPR (USA), BBC World Service (UK), and KCRW (LA) to name a few. Subsequently, she was covered by DJ Mag, Pitchfork, The Guardian, XLR8R, Paper, LA Times, Dazed and Confused, SPIN, Wax Poetics, MTV, VIBE, Billboard, and Rolling Stone.
TOKiMONSTA tours the world regularly as a live performer. She participated in the prestigious Red Bull Music Academy in London in 2010. In the summer of 2012, she was apart of the Full Flex Express tour, the first electronic music themed train tour that traveled across Canada with Skrillex, Diplo, Pretty Lights, and Grimes. Some notable past performances were at Coachella, Sonar Barcelona, DEMF, WMC, Electric Zoo, SxSW, Camp Bisco, and Decibel Festival.
TOKiMONSTA was diagnosed with Moyamoya disease in late 2015. After undergoing two brain surgeries, she briefly lost language and comprehension skills. Once these were regained, she eventually began creating music again. Four months after overcoming her surgeries, TOKiMONSTA played Coachella and went on to make history as the first female Asian-American producer to receive a Grammy nomination in the best dance/electronic album category for her 2017 album, "Lune Rouge."
DOORS OPEN at 8:30pm ALL AGES BEER GARDEN 21+
LISTEN TO TOKiMONSTA Soundcloud: https://soundcloud.com/tokimonsta Spotify: https://open.spotify.com/artist/3VwKSHAfgzV1DOHV0aANCI Youtube: https://www.youtube.com/channel/UC5YQVOAMgbIBDYTfdBBDYSQ Facebook: https://www.facebook.com/tokimonsta/ Instagram: @tokimonsta
RESTRICTIONS NO RE-ENTRY. No backpacks, large bags, skateboards, bottles, cans, knives, glow sticks, lasers, alcohol, animals, illegal substances, wallet chains, recording devices, projectile items, stage diving, crowd surfing, or moshing. Any person engaged in violent conduct or endangering others will be removed from the venue.