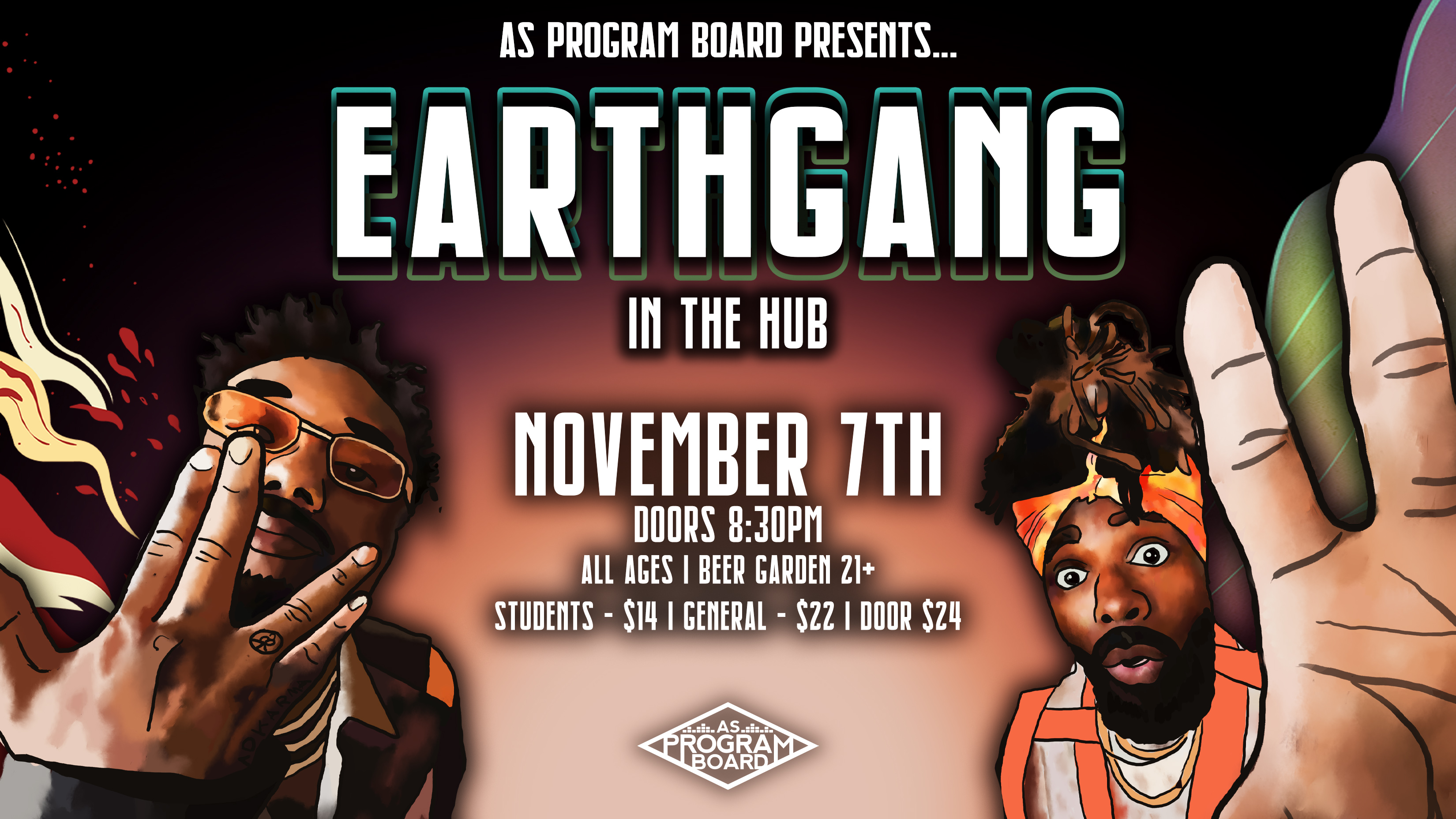 AS Program Board Presents… Earthgang in the Hub!
STUDENT TICKETS
(Use your PERM NUMBER as the PASSCODE)
GENERAL TICKETS
Meet Earthgang. Olu (Johnny Venus) and WowGr8 (Doctur Dot). Co-founders of Spillage Village (includes members such as 6LACK, J.I.D., Mereba, and more). This dynamic duo has also drawn numerous comparisons to legendary pairing, Outkast.
Join us in welcoming hip hop in its purest form. As part of their headlining tour, Earthgang will be making a pit-stop in the hub. Unapologetically themselves, Earthgang describes their brand as freedom and loves "spreading awareness and just holding natural conversations with people."
Earthgang's wide-ranging debut, Shallow Graves For Toys, peaked at #11 on the 2012 Billboard Emerging Artists chart. This album includes a huge variety of stars, from folk singers like Marian Mereba to producers 808 Mafia (i.e. Gucci Mane, Waka Flocka Flame).
J.I.D, Young Thug, J. Cole, Smino, Saba, Kehlani – just a few of the artists that have collaborated with the duo. Nearly 4 million monthly Spotify listeners and over 100 million streams, this is not a show you want to miss.
STUDENTS $14 | GENERAL $22 | DOOR $24
BEER GARDEN 21+
PSA: Student pricing for tickets is NOT available at the door, so don't wait!
Check out EARTHGANG below!
SPOTIFY
INSTAGRAM
FACEBOOK
TWITTER
Tickets can be purchased online and at the AS Ticket Office (between the MCC and the UCen).