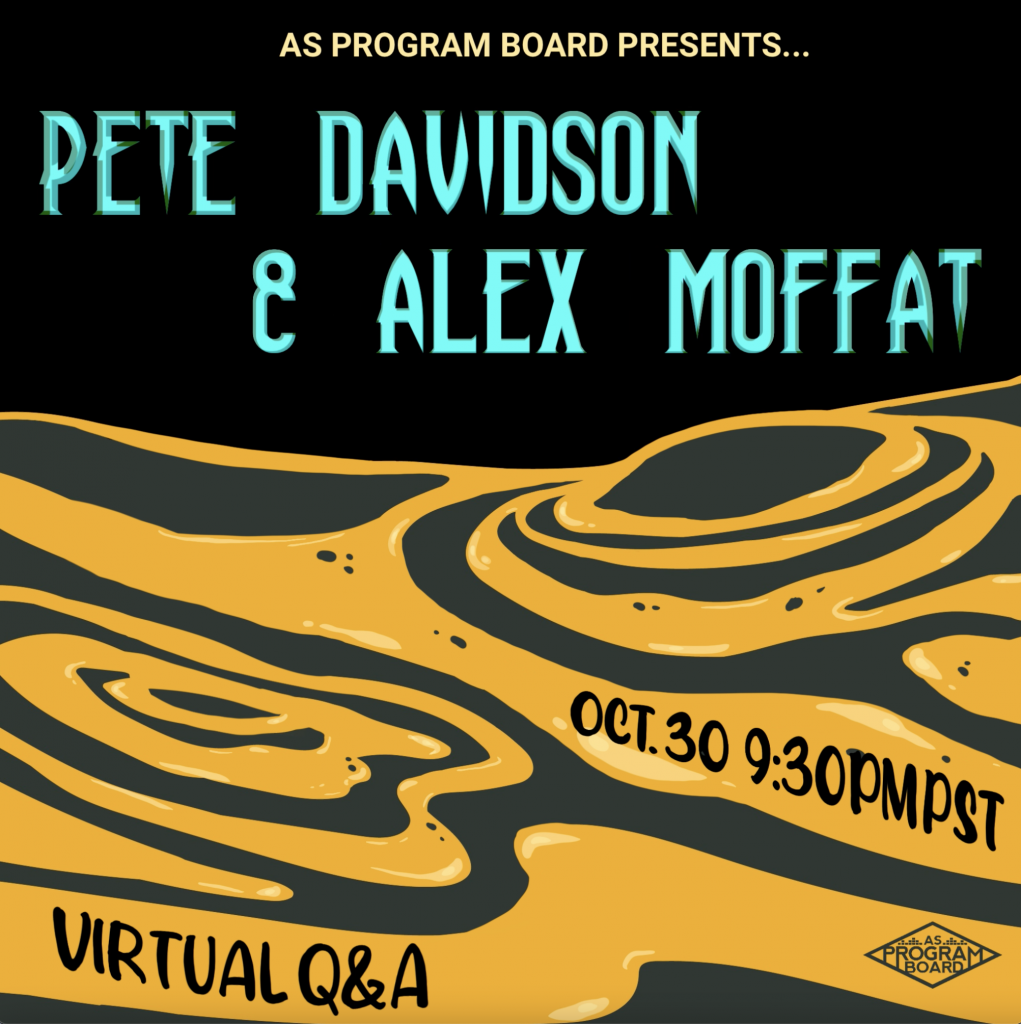 Friday Late Night ft. Pete Davidson and Alex Moffat
AS Program Board Presents… Friday Late Night ft. Pete Davidson and Alex Moffat on Friday, October 30th, 2020 at 9:30 PM (PST) via Zoom.
This event is free and closed to UCSB students only.

Pete Davidson has quickly become the comedian of a generation.The comedian, actor, writer, and producer first tried stand-up at the age of 16 after being dared by his friends to take the stage at a bowling alley in his hometown of Staten Island– and the rest is history. After dropping out of college to pursue a career in comedy, Davidson went straight to work, molding himself into the man we all know and love. Following stints on MTV's 'Guy Code' and Nick Cannon's 'Wild 'N Out' in 2013, Saturday Night Live cast member Bill Hader dropped Davidson's name to SNL producer, Lorne Michaels, who invited Davidson to audition for the show. In 2014, Davidson joined the cast of SNL, making history as the first cast member to be born in the 1990s and one of the youngest people to join the cast ever. Davidson went on to participate in the Comedy Central Roast of Justin Bieber in 2015, where he was lauded for his performance. In 2016, Davidson was featured in Forbes magazine's 30 under 30, and his first standup with Comedy Central, 'Pete Davidson: SMD' was released. Following this, Davidson's edgy humor and risky takes continued to yield big rewards for him. In January 2019, Davidson joined comedic giant John Mulaney for a limited comedy tour of the northeast called "Sundays with Pete and John".
Alex Moffat is a NY based actor, writer, and Saturday Night Live cast member. Moffat was born and raised in Chicago where he performed regularly at The Annoyance Theater as he came up in comedy. He joined the cast of SNL in 2016 and has since been praised for his impressions.