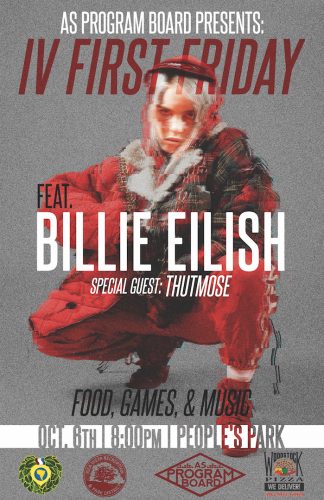 AS Program Board Presents… IVFF ft. Billie Eilish!!!
Come out to People's Park in the heart of IV for a fun, free, and fantastic night out! With games, Woodstocks pizza, Yerba Mate, and more. IVFF will sure be a blast!
BILLIE EILISH: An artist since birth, 15 year old Billie Eilish developed a keen appetite for music discovery, constantly combing Soundcloud and the internet at large for underground rap and chill artists. Simultaneously, she and her older brother Finneas quietly wrote and recorded a host of music, culminating with the breakthrough of "Ocean Eyes." It became a veritable phenomenon, generating 40 million cumulative Spotify streams and 5 million YouTube/VEVO views.
Billie's "gloom pop," as she appropriately dubs it, is nothing short of magic as it continually surprises. "I don't want to ever write or sing the same way everyone else does," she leaves off. "It's just me, and I'm always going to be myself."
Opening for Billie, we have THUTMOSE! 23 years old. Born in Nigeria. Raised in Brooklyn. Drawing from worldly inspiration and dozens of genres, Thutmose is in his own lane and has proven it with his initial releases and blown up content.
Billie's Social Media:
instagram:
https://www.instagram.com/wherearetheavocados/
twitter:
https://twitter.com/billieeilish
youtube:
https://www.youtube.com/user/BillieEilishVEVO
Thutmose:
soundcloud:
https://soundcloud.com/thutmose
instagram:
https://www.instagram.com/thutmosemusic/