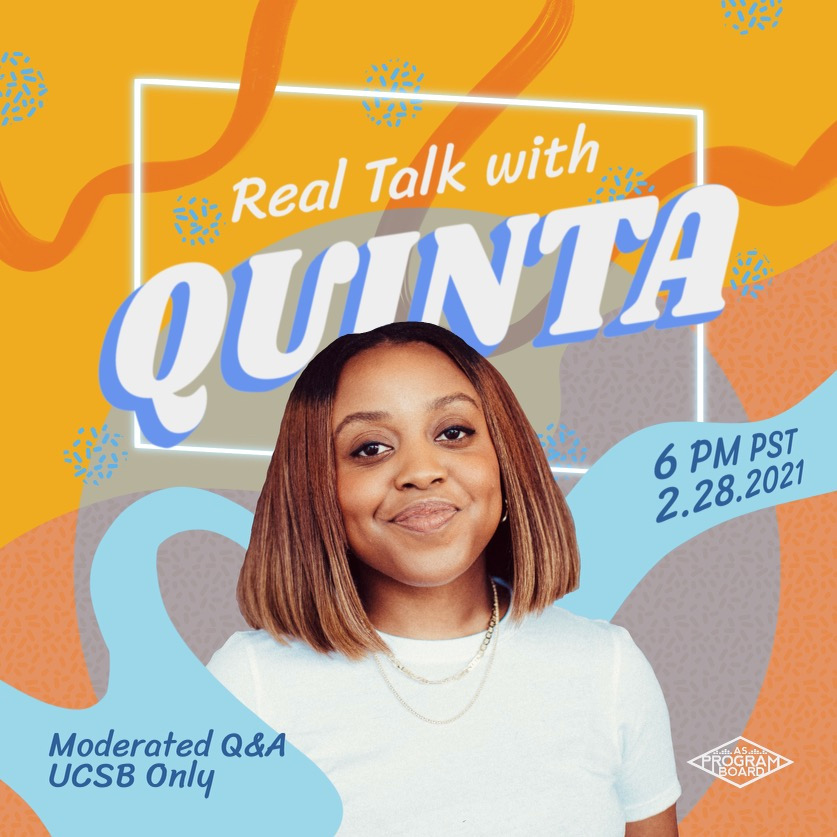 Real Talk with Quinta
AS Program Board Presents… Real Talk with Quinta on Sunday, February 28th, 2021 at 6 PM (PST) via Zoom.
This event is free and closed to UCSB students only.
Named one of Forbes' "30 Under 30 in Hollywood & Entertainment" and one of The Hollywood Reporter's "Digital Disruptors," award-nominated actor, writer, and producer Quinta Brunson has quickly made a name for herself as a powerful force within the entertainment industry.
Originally from Philadelphia, Brunson burst onto the entertainment scene in 2014 when the series she created, "The Girl Who's Never Been on a Nice Date," went viral on YouTube and Instagram. Since then, Brunson's original content has reached hundreds of millions of people and her followers have exceeded 2.5 million. Brunson's online success attracted the attention of BuzzFeed, where she landed a job as a video producer. Brunson's position quickly grew as she sold two web series as a development partner with BuzzFeed Motion Pictures: the scripted comedy "Broke" (which she wrote, produced, and starred in) for YouTube Red and "Up for Adoption," which was produced by Verizon's go90. Brunson's performance in "Broke" was nominated for Best Acting in a Comedy at the 2017 Streamy Awards.
Since leaving BuzzFeed in 2018, Brunson's career has skyrocketed. She wrote, produced, and starred in the series "Quinta vs. Everything" for Facebook Watch, appeared on The CW's "iZombie," and has lent her voice and writing skills to a plethora of projects.
Since 2019, Brunson has starred in HBO's breakout comedy series "A Black Lady Sketch Show". Executive produced by Issa Rae, the show is a narrative series set in a limitless magical reality full of hilarious characters and celebrity guests. The show presents weekly sketches that are performed by a core cast of Black women. It's safe to say that Quinta Brunson is a star in her own right. We hope you'll join us in watching her shine.