By Claire Han, ASPB Ambassador
Being Funny in a Foreign Language: 8.5/10
The 1975
Two years since their rather lukewarmly received 70-minute album Notes on a Conditional Form, The 1975 has finally made their comeback: this time, right back into my heart. Listening to this album, I was transported into the lost era of knee-high socks and American Apparel tennis skirts–the infamous 2014 Tumblr era. While the band reached its peak of notoriety in the mid-2010s, I had remained a casual fan and listener, particularly of their 2018 album A Brief Inquiry Into Online Relationships. While it's difficult to say if this album will cement the band back into being pop-culture kings of the internet, I thoroughly enjoyed the growth exhibited through this work. The group definitely did not divulge from their traditional carefully crafted indie synth-pop/rock sound, however, were able to slightly diversify their range through tracks such as the 80s-influenced "Looking for Somebody to Love" & the heart-wrenching ballad "All I Need To Hear." Moving onto specific tracks, my favorites are undoubtedly "Happiness" and "About You." Once it hit the 3-minute mark on the disco-infused dreamy track Happiness, I was transported into the beauty that is The 1975, in all its cliché and romance! The track "About You" in particular has achieved heights of niche virality on TikTok for its hauntingly beautiful chorus by the female singer Carly Holt, wife of The 1975's guitarist Adam Hann. Overall, while a bit repetitive, I thoroughly enjoyed the tracks in all of their certified The 1975-like clichés. Maybe it's just the nostalgic regression to 2014 Tumblr that Tiktok "trend forecasters" have been warning us about. Or maybe it's the cold weather creeping up on us (which is rather suspicious for Southern California). But I'm 100% a fan
LE SSERAFIM ANTIFRAGILE 9/10
Bouncing back from a large controversy that resulted in the loss of a member straight from debut cannot have been easy for HYBE's new K-pop girl-group LE SSERAFIM, but they just might have proved themselves against the odds with their sophomore EP ANTIFRAGILE. Just as their name LE SSERAFIM–an anagram of the phrase I'M FEARLESS–indicates, their bold and confident spirit was showcased all throughout this polished genre-hopping EP. In particular, the title track "ANTIFRAGILE": an infectious Afro-Latin-inspired track served as a reminder of their history as a group and their passion. The lyric "Don't forget the pointe shoes I left behind" struck me in particular, as it was sung by member Kazuha, who had left her life of 15 years of training to be a professional ballerina in Japan to start all over in South Korea as an idol. The group ventures into various genres throughout the EP: from the rock-inspired "No Celestial" to the sleek r&b ballad "Impurities." While I found ANTIFRAGILE's title track strong, I, unfortunately, was left wanting more, as I had enjoyed their freshman EP FEARLESS more holistically. In particular from FEARLESS, I recommend everyone check out the r&b track "Sour Grapes" and the disco-pop song "Blue Flame." However, I was impressed by the consistent message that was shown throughout that attested to their member's individual abilities and their bright future. Overall, the EP served as a good reminder that hinted at even stronger music and performances to come.
Midnights 7/10
Taylor Swift
Perhaps I was expecting too much after folklore and evermore (to be fair, how could I not). However, with my expectations raised to the roof, this album fell just a bit flat. This is not to say I did not enjoy the majority of the tracks, but I did find it to be a step down from her prior work. Taylor returns to a more technicolor synth-pop style she had left in 2019, which has resulted in a mixed bag of reception. I was actually quite a fan of this, with my particular favorites being the atmospheric pop tracks "Lavender Haze" and "Maroon"–both of which served as pleasant companions to my daily campus stroll to The Arbor. Taylor explores a lot of self-turmoil surrounding her perception through her lyrics throughout the album, such as in the self-aware track "Anti-Hero" where she sings "Did you hear my covert narcissism I disguise as altruism, like some kind of congressman?" and leads up to her chorus where she chants "I'm the problem, it's me." However, many of the lyrics (such as the aformentioned) have also resulted in a bit of critique online specifically from Gen Z fans that have quipped her lyrics to be very "millennial" and "corny." For instance, on the track "Vigilante," the line "Draw the cat eye sharp enough to kill a man" became the butt of many jokes for its dated 2016-esque reference. On a personal level, I found this album to be a bit underwhelming, however, I cannot help but find myself humming to the hypnotic chorus of "Karma" while doing the dishes and walking around the house. This one may just grow on me. 
BONUS
girls like me don't cry 7/10
Thuy
This one is for the fans of Positions by Ariana! UCSB alumn and rising Vietnamese-American r&b pop princess Thuy released her sophomore EP on October 6th. Acting as my first introduction to Thuy, I was left pleasantly surprised. While lacking originality–as the album was clearly inspired by a certain high pony-tailed individual–down to the music video for "girls like me don't cry" to the stylistic choice of lower-cased song titles. Nonetheless, I still enjoyed the EP as a chill and easy listen. In particular, I ended up adding the girly r&b tracks "u should feel special" & "girls like me don't cry" to my playlists. As it is early in her career, I found this to be a great start and I will definitely be keeping up with her work in the future. BTW, for those interested, she's going on tour!
Extras: songs on repeat this month
ABC (ft. Sophia Black) – Polyphia
the perfect pair – beabadoobee
instagrammer girl – kid milli
i hope to be around – men i trust
Claire Han (she/her)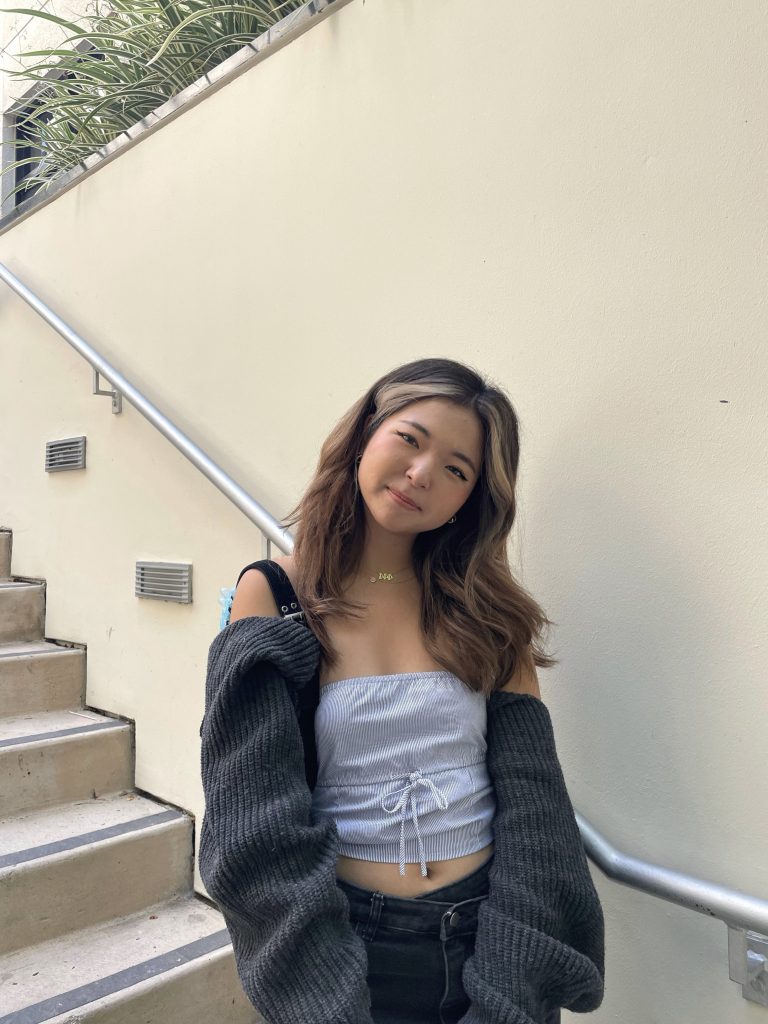 Claire Han (she/her) is a third year AS Program Board Ambassador. She is a sociology major with a minor in professional writing and aspires to work in brand marketing and design! In her free time, Claire likes to thrift, make playlists, read her friend's astrological charts, and watch movies.