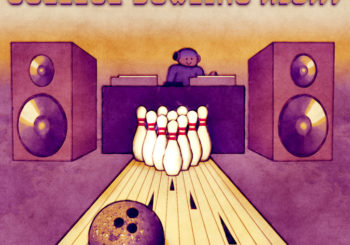 College Bowling Night at Zodo's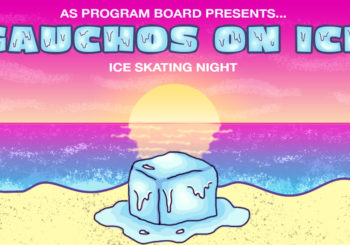 Gauchos on Ice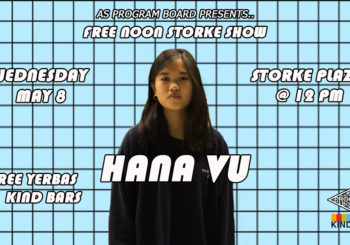 Free Noon Storke Show: Hana Vu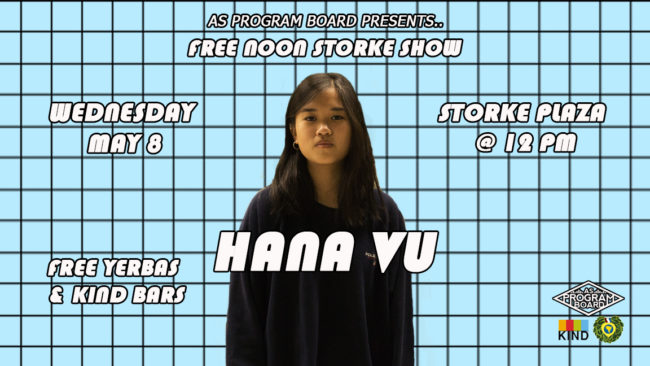 AS Program Board Presents… A Free Noon Storke Show featuring Hana Vu!
Join us for an afternoon with free music, yerba mates and KIND bars 🎶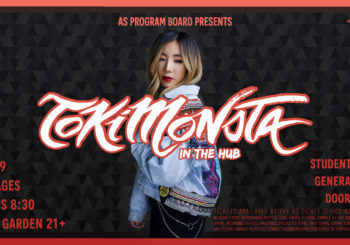 TOKiMONSTA in the Hub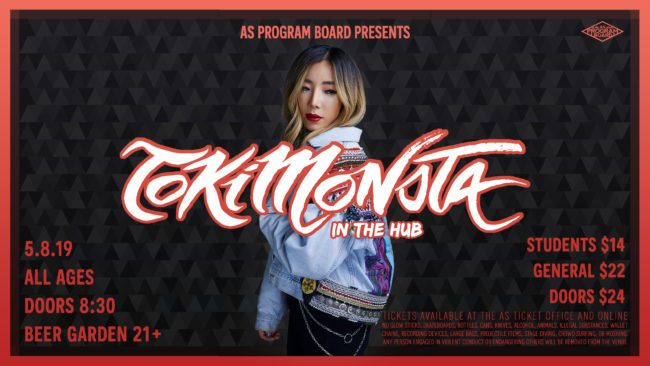 AS Program Board Presents… TOKiMONSTA in The Hub!
Tickets can be purchased online and at the AS Ticket Office (between the MCC and the UCen) ON-SALE: Thursday, May 2nd @ 10:00am.
Ticket Prices: $14 Student / $22 General Admission / $24 Doors (FOR STUDENT PRICING YOUR PERM # IS THE PROMO CODE)
TOKiMONSTA is a Grammy Nominated American record producer and DJ from Los Angeles known for her unique take on indie electronic/r&b/dance music. Her influences are far-reaching — hip-hop, R&B, experimental electronic, classical, K-pop — from which she creates vast textural soundscapes and striking instrumentals.
For nearly a decade, TOKiMONSTA has been working non-stop. After getting her start making beats in her dorm room, TOKiMONSTA became the first female to join Flying Lotus's crew/label BRAINFEEDER in 2010, released an album with Ultra in 2013, started her own label, Young Art Records, in 2014, and notched up a ton of collaborations with artists including Anderson. Paak — all the while touring and dropping new projects and EPs at a consistent rate. TOKiMONSTA was also featured on various large-scale radio programs such as BBC Radio1 (UK), NPR (USA), BBC World Service (UK), and KCRW (LA) to name a few. Subsequently, she was covered by DJ Mag, Pitchfork, The Guardian, XLR8R, Paper, LA Times, Dazed and Confused, SPIN, Wax Poetics, MTV, VIBE, Billboard, and Rolling Stone.
TOKiMONSTA tours the world regularly as a live performer. She participated in the prestigious Red Bull Music Academy in London in 2010. In the summer of 2012, she was apart of the Full Flex Express tour, the first electronic music themed train tour that traveled across Canada with Skrillex, Diplo, Pretty Lights, and Grimes. Some notable past performances were at Coachella, Sonar Barcelona, DEMF, WMC, Electric Zoo, SxSW, Camp Bisco, and Decibel Festival.
TOKiMONSTA was diagnosed with Moyamoya disease in late 2015. After undergoing two brain surgeries, she briefly lost language and comprehension skills. Once these were regained, she eventually began creating music again. Four months after overcoming her surgeries, TOKiMONSTA played Coachella and went on to make history as the first female Asian-American producer to receive a Grammy nomination in the best dance/electronic album category for her 2017 album, "Lune Rouge."
DOORS OPEN at 8:30pm ALL AGES BEER GARDEN 21+
LISTEN TO TOKiMONSTA Soundcloud: https://soundcloud.com/tokimonsta Spotify: https://open.spotify.com/artist/3VwKSHAfgzV1DOHV0aANCI Youtube: https://www.youtube.com/channel/UC5YQVOAMgbIBDYTfdBBDYSQ Facebook: https://www.facebook.com/tokimonsta/ Instagram: @tokimonsta
RESTRICTIONS NO RE-ENTRY. No backpacks, large bags, skateboards, bottles, cans, knives, glow sticks, lasers, alcohol, animals, illegal substances, wallet chains, recording devices, projectile items, stage diving, crowd surfing, or moshing. Any person engaged in violent conduct or endangering others will be removed from the venue.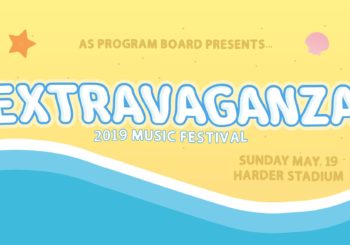 Save The Date: Extravaganza 2019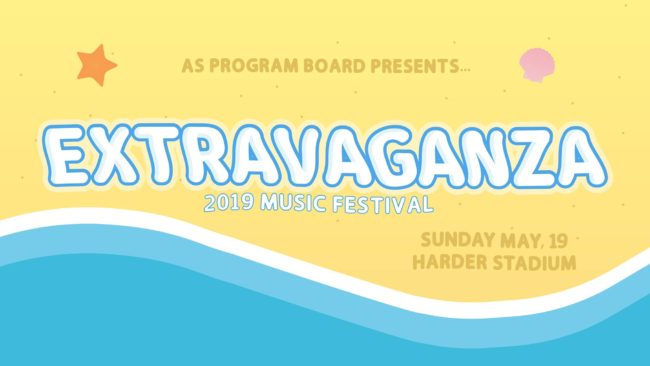 mark 👏 your 👏 calendars 👏
Extravaganza is back May 19th. keep your eyes peeled forlineup + more info coming soon 👀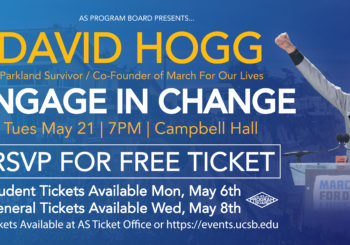 David Hogg: Engage in Change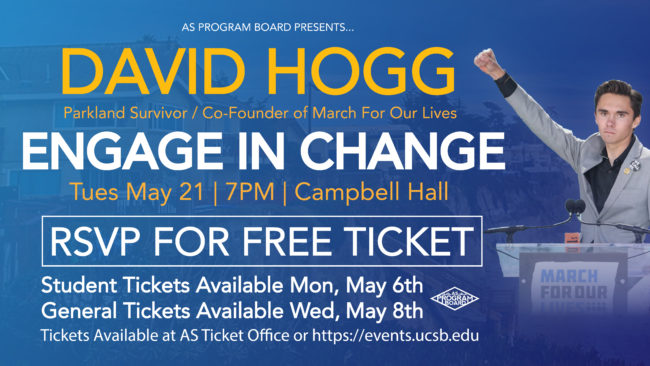 AS Program Board presents… David Hogg: Engage in Change on May 21st at 7 p.m in Campbell Hall.
RSVP FOR FREE TICKET
Student Tickets Available Monday, May 6th
General Tickets Available Monday, May 8th
Tickets Available at AS Ticket Office or
https://events.ucsb.edu/event/david-hogg-engage-in-change
/
David Miles Hogg is an American author and student who survived the Marjory Stoneman Douglas High School shooting in Parkland, Florida on February 14, 2018 which was described by several media outlets as a possible tipping point for gun control legislation. Hogg also co-founded the March For Our Lives Movement in support of stronger gun violence prevention measures with over 880 sibling events throughout the United States and around the world.
Hogg is known nationally as a gun control advocate and an activist against gun violence in the United States. He is one of 20 founding members of Never Again MSD, a gun control advocacy group led by Marjory Stoneman Douglas High School students. In conjunction with his gun control advocacy, Hogg has helped lead several high-profile protests, marches, and boycotts. He has also been a target and scapegoat of several conspiracy theories and right-wing accusations. With his sister, he wrote a book titled #NeverAgain: A New Generation Draws the Line that made the New York Times bestseller list. They have pledged to donate all income from the book to charity. Hogg plans to attend Harvard University in fall 2019.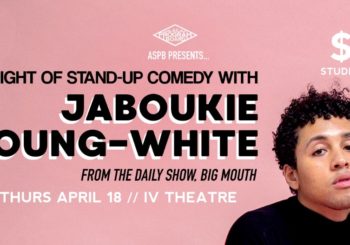 A Night of Stand-Up Comedy with Jaboukie Young-White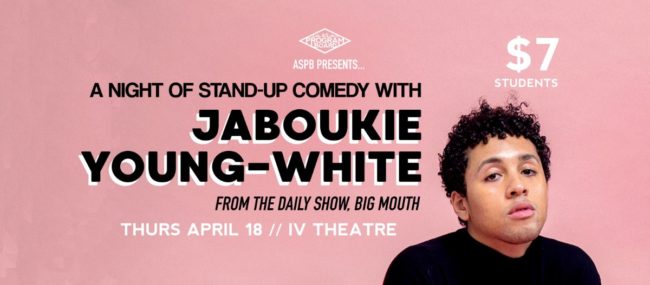 AS PROGRAM BOARD PRESENTS…
A Night of Stand-Up Comedy with JABOUKIE YOUNG-WHITE
STUDENT ADV: $7
GENERAL ADV: $15
STUDENT DOOR: $10
GENERAL DOOR: $20
Jaboukie is a comedian originally from Chicago who is the newest correspondent on THE DAILY SHOW WITH TREVOR NOAH. He appeared in the Sony feature ROUGH NIGHT directed by Lucia Aniello and the Netflix feature SET IT UP directed by Claire Scanlon. He was selected as a "Comic to Watch" at New York Comedy Festival 2017, was one of Vulture/New York Magazine's "Comedians You Should and Will Know" 2017, was selected as an "Up Next" comedian for Comedy Central's Clusterfest, and named one of Rolling Stone's 25 Under 25. Most recently he was named one of Variety's 10 Comics to Watch 2018 and performed at their Comics to Watch Showcase at Just For Laughs in Montreal. He has performed stand up on THE TONIGHT SHOW STARRING JIMMY FALLON and recently taped his half-hour for COMEDY CENTRAL STAND-UP PRESENTS. Jaboukie can be seen on the current season of HBO's CRASHING. Previously, Jaboukie was a staff writer on Netflix's AMERICAN VANDAL and BIG MOUTH.
DOORS OPEN @ 6:30PM
Tickets can be purchased online at https://events.ucsb.edu or the AS Ticket Office (between the MCC and the UCen) on Monday, April 8th @ 10am.
*Advance Sale cut-off is Thursday, April 18th @ 12pm*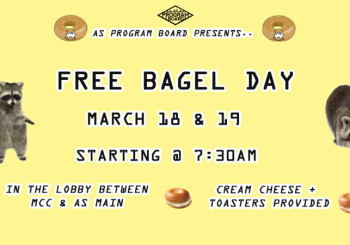 Free Bagel Days!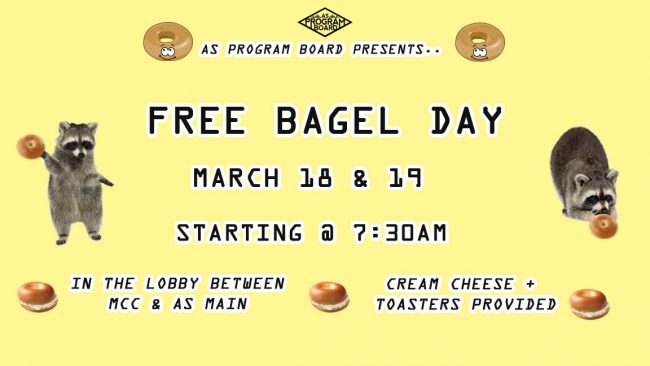 AS Program Board Presents…
Free Bagel Days to help ease away the pain of finals week!
There will be free bagels at the Multicultural Center (MCC) on Monday and Tuesday of Finals week, beginning at 7:30 am until 5:00 PM or until we run out of bagels!
There will be cream cheese and toasters for your convenience.
First come first serve. Good luck with finals, Gauchos :)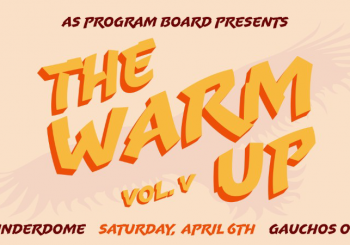 The Warm Up: SAVE the DATE!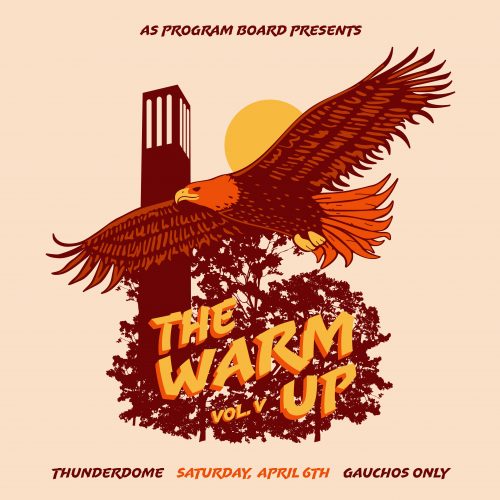 AS Program Board Presents… The Warm Up on Saturday, April 6th, 2019 in the Thunderdome!
Stay tuned for artist announcement ✨
Tickets will be available ONLINE ONLY starting Monday 4/1 @ 10am for $5 with an additional $1 ticketing fee.
This show is GAUCHOS ONLY (current UCSB students only)- Access Cards are required for ticket purchase and entry! Your ticket will be loaded onto your Access Card- NO exceptions. Access Cards are available for purchase at the UCEN Info Desk Monday thru Friday from 10am- 4pm. For more info and updates visit our
FB Event Page
.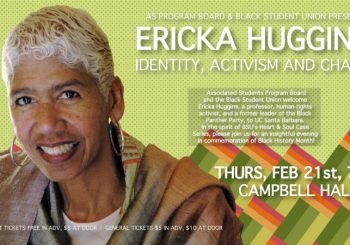 An Evening with Ericka Huggins: Identity, Activism and Change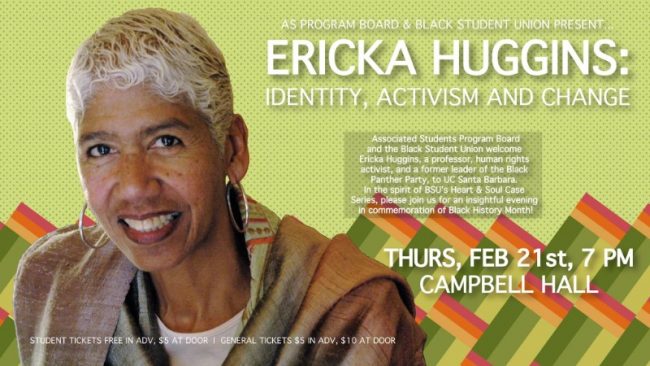 AS Program Board and BSU Presents… an evening with Ericka Huggins on February 21st at 7 p.m. in Campbell Hall to commemorate Black History Month! This event is day one of BSU's 2-day Heart & Soul Case Series, celebrating Black art forms, expression and entrepreneurship.
Ericka Huggins is a human rights activist, poet, educator, former Black Panther leader and political prisoner. For the past 30 years, she has lectured throughout the United States and internationally. Her extraordinary life experiences have enabled her to speak personally and eloquently on issues relating to the physical and emotional well-being of Black women and children, in education within the Black community, incarceration, and the role of the spiritual practice in sustaining activism and promoting change.
As a result of her 14-year tenure as a leader of the Black Panther Party (the longest of any woman in leadership), she brings a unique, complete and honest perspective to the challenges and successes of the Black Panther Party and their significance into today.
Tickets are available online at https://ticketing.axs.com/Home.aspx?I=6LSPOgAAAAAqNAYaAQAAAADq%2fv%2f%2f%2fwD%2f%2f%2f%2f%2fBFVDU0IA%2f%2f%2f%2f%2f%2f%2f%2f%2f%2f8%3d
or in-person at the AS Ticket Office.
THE EVENT IS OPEN TO THE PUBLIC!
Student tickets are FREE! Be sure to download a ticket using the student link.
Advance:
|STUDENTS: free| |GA: $5|
Door:
|STUDENTS: $5| |GA: $10|