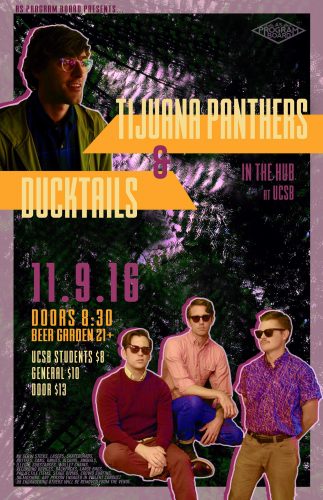 AS Program Board Presents… Tijuana Panthers and Ducktails in the Hub on Wednesday November 9th! Tickets go on sale November 3rd at 10am and will be available for purchase at the ticket office and online for an additional fee. This concert is open to the general public, and will include a Beer Garden for those 21 and up.
Ticket prices: $8 Student // $10 General Admission // $13 Door
Tickets:
http://www5.ticketingcentral.com/V2/OfferInfo.aspx?t=69438C88D40365278A90A0&og=-1
Tijuana Panthers: Chad Wachtel, Daniel Michicoff and Phil Saheen are Tijuana Panthers, a trio hailing from Long Beach, California are fusing lo-fi garage and surf rock with punk in an unprecedented fashion, crafting perfect pop while delivering with energy and immediacy. After meeting at a church camp in middle school and bonding over a shared love of skating and surfing, a shared passion of music brought the three together, forming Tijuana Panthers. After releasing their debut 7", "Girls Gone Wild" b/w "Creature" in 2009, the band released their first record Max Baker garnering acclaim from the blogosphere just a year later. In 2013, Innovative Leisure put out Tijuana Panthers' label debut, Semi-Sweet, following up with an extensive tour supporting the likes of Ty Segall, Thee Oh Sees, The Growlers, and label-mate Hanni El Khatib while also holding their own at major festivals like Coachella, Burgerama and Beach Goth. After releasing their third and fourth LP's Wayne Interest and Poster, they've returned in the summer of 2016 with their most confident release yet, the Ghost Food EP via Innovative Leisure.
Website:
http://tijuanapanthers.com/
Twitter:
http://twitter.com/tijuanapanther
Facebook:
http://facebook.com/tjpanthers
Instagram:
http://instagram.com/tijuanapanthers
Bandcamp:
https://tijuanapanthers.bandcamp.com/
Wasting Time music video:
https://www.youtube.com/watch?v=Obzieyci3AU
Ducktails: After spending the summer before his senior year of college in Northampton, Massachusetts, New Jersey native Matt Mondanile formed his solo recording project, Ducktails. A play on the classic 90s cartoon series, Mondanile began releasing music under the moniker in 2007 with his cassette debut 1992 Demo. In 2008, along with high school friends, he began playing guitar in indie-alt band Real Estate, while still keeping Ducktails afloat, releasing his self-titled debut album in 2009 on Not Not Fun, and quickly followed up with a second album, Landscapes, both receiving critical acclaim. In 2011, Mondanile transitioned from experimental psych rock toward pop with Ducktails III: Arcade Dynamics, which Pitchfork praised as "a subtle refraction of the Ducktails aesthetic, where the brittle abstraction and detours down lo-fi cul-de-sacs are siphoned into songs that are breezier, less inward looking, more in thrall to the possibilities of pop." After releasing two more Ducktails albums, 2013's The Flower Lane and 2014's St. Catherine, and simultaneously working on three Real Estate albums, Mondanile made the decision to part with Real Estate to "focus his creative energy on Ducktails." As a mainstay on BBC 6Music and an indie blog favorite, Ducktails has since been working on the follow-up to St. Catherine, having most recently released a self-directed video for the dreamy, synth heavy single "Don't Want To Let You Know."
Website –
http://mattmondanile.tumblr.com/
Twitter –
https://twitter.com/mattmondanile
Facebook –
https://www.facebook.com/pages/Ducktails/78029223987
Instagram –
http://instagram.com/mattmondanile
Bandcamp:
https://ducktails.bandcamp.com/
Letter of Intent music video:
https://www.youtube.com/watch?v=uxqsMJy5HeI