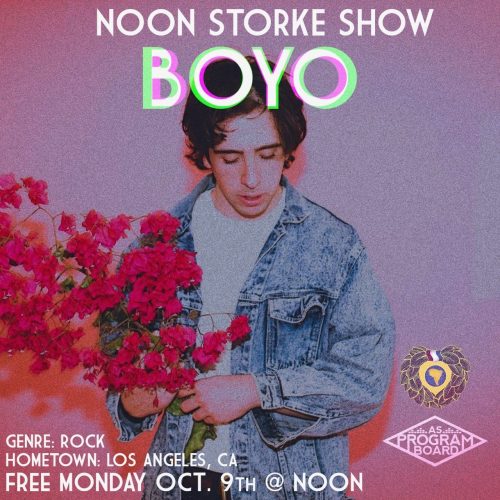 AS Program Board Presents…. BOYO!
Come enjoy some good music and some free Guayakí Yerba Mate! Bring your friends, bring yourself!
BOYO is the pseudonym of 20 year-old singer-songwriter Robert Tilden. Tilden's been kicking around the LA DIY scene since he was 16 years old, spending the better part of it fronting the garage band Bobby T. and the Slackers. Me, Again, the follow up to his debut Control, taps into his sense of vulnerability, taking on themes of isolation, addiction, and regret. The album is a jagged collection of garage rock and soft DIY indie and noisey pop music, channeling everyone from Ty Segall to Elliot Smith to Deerhunter.
Facebook: https://www.facebook.com/helloboyo/

Spotify: https://open.spotify.com/artist/1puLsaxX9EwudKrNBUVFe4