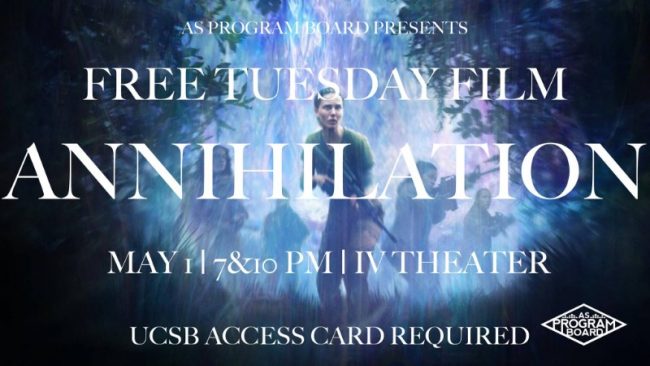 AS Program Board Presents… a free screening of Annihilation!
Come out to either the 7 or 10 o'clock showing for the next Free Tuesday Film of Winter quarter! Bring snacks, friends, and most importantly your ACCESS CARD for a good time and a great movie!
A biologist signs up for a dangerous, secret expedition into a mysterious zone where the laws of nature don't apply. Based on Jeff VanderMeer's best-selling Southern Reach Trilogy, Annihilation stars Natalie Portman, Jennifer Jason Leigh, Gina Rodriguez, Tessa Thompson, Tuva Novotny and Oscar Isaac. It was written and directed by Alex Garland (Ex Machina, 28 Days Later).
https://www.youtube.com/watch?v=89OP78l9oF0