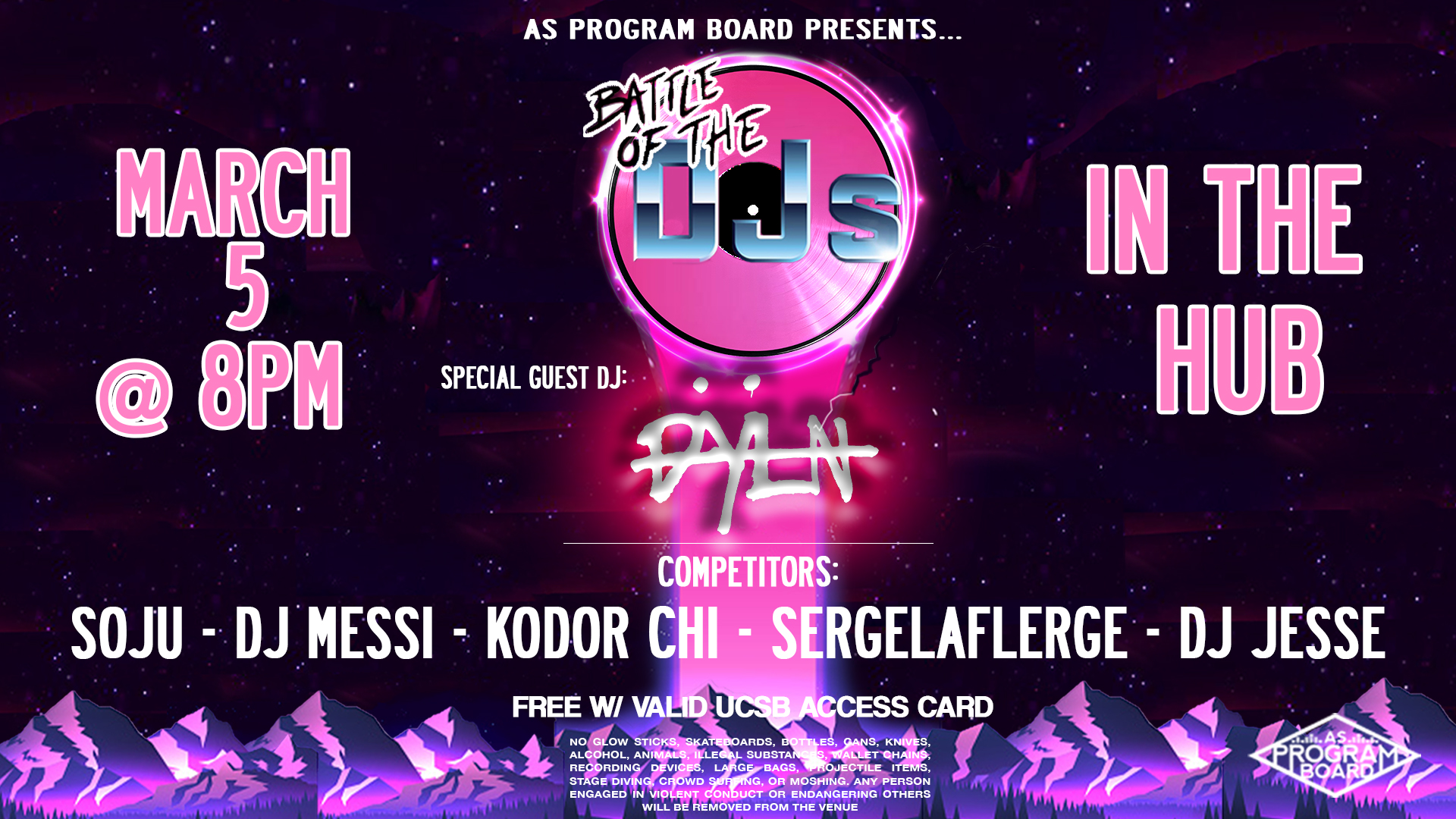 AS Program Board presents. . . BATTLE OF THE DJs 2020!
Think you have what it takes to go head to head against the most talented DJs in Isla Vista? Sign up today!
Competition Rules (MUST READ):
1.Failure to adhere to University and AS Program Board performance agreements and rules will result in disqualification.
2. The deadline for submitting demos is February 3rd at 5 pm!
3. Demos should be submitted using the form on our website. Alternatively, you can burn the demo to a CD in either mp3 or wav format and turn it in to the ASPB office in room 1519 of the UCEN with name and contact info written on the CD OR submit a video recording of your set.
4. Submissions may be no longer than 20-minutes max.
5. Music must be performed live; any pre-recorded sets will result in disqualification on spot.
6. Each DJ will have a 20-minute set. Sound will be cut after exactly 20 minutes, so DJs will want to plan accordingly.
7. DJs will have 5 minutes prior to their set to load in and have a quick line check.
8. DJs will have 5 minutes after their set to clear the stage.
9. CDJs will be provided for any DJ to use, please specify additional equipment in application for approval.
10. The performer must consist of no more than two musicians.
11. All DJs must be current UCSB students with an active perm number.
12. Each submission must contain ALL of the names and perm numbers of those participating
12a. Once the winners have been released, any names that have not been included in the submissions will not be allowed to perform.
12b. While name must be contained in submission, do not include name in the mix itself: mixes will be judged anonymously.
13. 5 people will be selected to compete and will be scored on a point system off of a set criteria, including:
13a. Mixing Ability
13b. Song Selection
13c. Originality
13d. Energy
13e. Audience Response
14. A panel of judges will score each participant and the winner will be the DJ with the highest combined score.
15. In the event of a tie, the judges present will vote on the winner.
16. The winning DJ will receive a transitional set on the main stage at Extravaganza May 17th, 2020. There will be no substitutions.
17. DJs must arrive by their specified time and be out of the Hub 30 minutes after the winner is announced or they will be disqualified.
18. No banners or props are allowed on stage. Fans are not allowed to bring banners or props with the band name to the event. Banners or props will be held until the the person leave the event.
19. No guests are allowed backstage.
20. Neither ASPB nor the University shall be held responsible for any damaged, lost, or stolen equipment. All decisions made by ASPB are final.
21. On stage visuals are prohibited.
22. The DJ will be disqualified if not all members are present by set time.
23. DJs are not allowed to sell merchandise.
24. ASPB and the University shall not be liable to the winner for failure to supply the prize, by reasons of the prize becoming inaccessible due to any reasons beyond control of ASPB or the University.
25. Previous winners of Battle of the DJs may reapply.
26. ASPB reserves the right to amend these rules at any time without notice.
27. At any point on the day of show of Extravaganza, ASPB reserves the right to dismiss the winner from the venue (Extravaganza) for failure to comply with University policies or rules associated with the venue and management of Extravaganza and/or at the discretion of ASPB.