Welcome to DAEDALUM
Since 1992 Architects of Air's luminaria, inspired by the beauty of natural geometry and by sacred architecture, have enchanted millions of visitors around the world. Daedalum features 19 egg-shaped domes. Passing through the maze one can discover an incredibly intricate rainbow-coloured tree and a cavernous dome on whose lofty ceiling is inspired by the Pantheon of Rome.
The luminosity of light and colour inside is created purely by the light shining through the coloured plastic. All the individual pieces have been cut & put together by hand in our workshop in Nottingham, England.
Once inside please take your time and walk slowly. Keep to the paths that are in contact with the ground as the plastic is delicate. There are pods where you can sit down or lie back to absorb the ambience.
Please do take photos, but don't forget to allow yourself some time to fully relax and explore the space without your phone in your hand. Please respect visitor privacy when taking and sharing photos.
The exhibit will be open from Friday, May 5 to Sunday, May 7 during the hours of 12PM to 6PM.
Design by Alan & Meko Parkinson / Music by David Bickley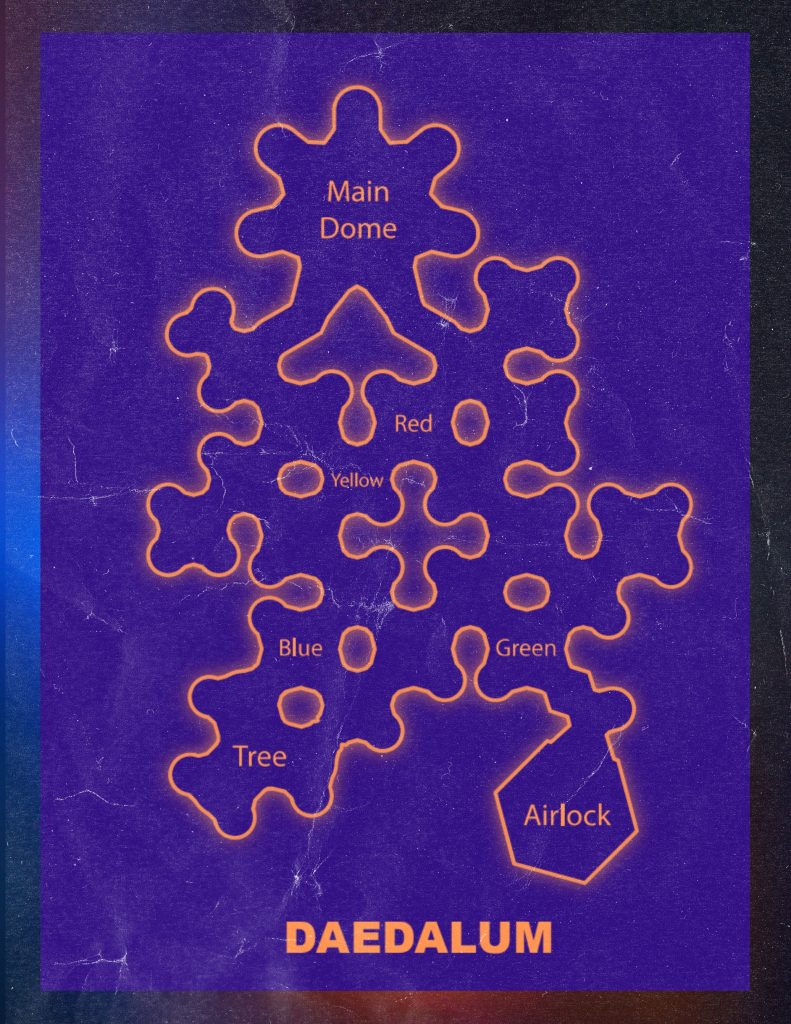 Luminarium FAQ
What is a Luminarium?
A Luminarium is a sculpture you enter for an encounter with light. This immersive art installation has been likened to a labyrinth. Walking through will awaken all of the senses, creating a sense of wonder and enchantment for all ages. Many people find the luminarium calming – a place for rest or meditation. Others are simply hypnotized by this amazing world of light and subtle and saturated hues. They are designed by Architects of Air  founder Alan Parkinson. www.architects-of-air.com. The luminaria are inspired by natural forms, geometric solids, Islamic and Gothic architecture. Each new creation is a maze of winding paths and inspiring domes where the visitors may lose themselves in sensory bliss. Since 1992 over 3 million visitors in more than 40 countries across 5 continents have immersed themselves in the spectacular, luminous world of Architects of Air. The last time a Luminarium was at UCSB was in 2013.
Who is a Luminarium for?
The Luminarium is suitable for all ages. It is a great option for a family day out, introducing younger children to artistic and cultural experiences in a public space. The structure is fully accessible for wheelchair users, who are welcome to visit at all times. We are hosting dedicated accessible and dementia-friendly sessions for those who prefer a more controlled environment.
Are guide dogs allowed inside?
The luminarium is not an environment a dog feels comfortable in, even a guide dog. It can also be felt as threatening for other visitors if the dog comes to bark. The dog would also  need to wear protective shoes. Guide dogs should remain outside and we should find alternative ways to accompany the person inside. 
Are strollers allowed inside?
No, strollers are to be left outside of the luminarium.
What should I expect from my visit?
On arrival at the site you will join the line for entry. There will be time markers for this to indicate wait times. On entry, you will be required to leave your shoes and any large bags in the reception area – smaller bags can be taken inside the structure. All belongings left at reception are done so at the owners' risk. Once inside you can navigate the winding tunnels of the structure. There will be a one-way system in place to help channel visitors through the structure and maintain physical distancing. Each visitor has their own way of exploring the structure – some like to see every twist and turn, whilst others prefer to find a spot to rest and contemplate. We encourage you to explore in your own way! Running is not permitted inside the Luminarium to maintain the calm atmosphere.
Is it Covid-safe?
We have put measures in place to ensure a safe environment for all visitors to the luminarium. Hand sanitizer will be available on site. A one-way system will be in place, controlling how visitors navigate the structure to allow for physical distancing. The structure will be cleaned regularly and is extremely well ventilated with air constantly flowing
Who can visit?
Everyone! The luminaria are fully accessible, giving access to a very broad audience, embracing all ages, abilities, cultures and communities. Under 16 year olds must be accompanied by an adult.
What should I expect?
At the reception tent visitors are invited to remove their shoes before passing through an airlock. Once inside they are free to follow their map and explore the installation, or, if they prefer, they can find a nice pod where they can simply sit and lay back to enjoy the ambience.
How long does it last?
That is up to you! A visit usually takes between 20 minutes and an hour – you are welcome to stay and relax.
What are the opening hours?
It is open 12 PM – 6 PM from Friday, May 5 to Sunday, May 7.
How much is it?
Tickets are free for all–UCSB students and the general public.