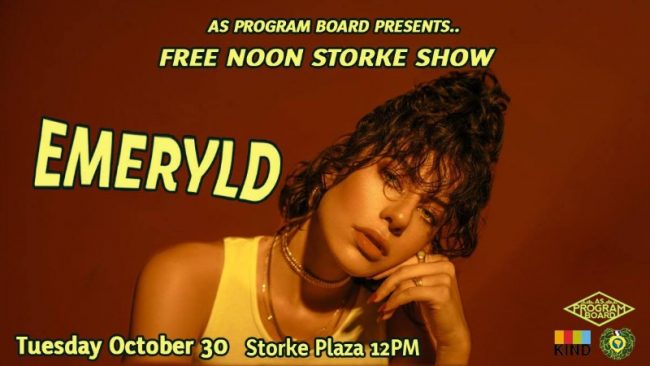 Stop by Storke Plaza on Tuesday October 30th to enjoy a free show by Emeryld, as well as FREE Guayaki Yerba Mates and KIND bars!
Spotify: https://open.spotify.com/artist/3YTUk9oIDoAe5VFfgUS5UL
Although she hails from Dallas, Texas, twenty one year old Emeryld is not your typical southern belle. Understanding at a young age, that her talent was bigger than her environment, Emeryld graduated high school a year early and bought a one way ticket to Los Angeles. Since landing in LA, Emeryld's development has been explosive.
Emeryld learned to play the piano and guitar at age seven. She started writing her own songs and performing them around town at age 8. The influences of R&B, Soul and Funk are reflected through her music, as well as colors of pop. Some of her inspirations include Nina Simone, Anderson .Paak, Earth Wind and Fire, Sade, and Elton John.
In her short time in LA, Emeryld has released an EP and 5 singles toppling over half a million streams for "Sweet Amnesia", alone. Her latest single, "Honey Bee" is continuously gaining traction and has recently been placed on Spotify's Discover Weekly and Your Daily Mix. Emeryld has also had the opportunity to perform at some iconic venues + festivals such as SXSW, Austin City Limits, Soho House Malibu, the House of Blues, The Peppermint Club, and Live Nation's One's To Watch.
Emeryld's distinct powerful sultry vocals, impressive range, and longing lyrics leave you wanting more. Keep an eye out for new music from the songstress very soon.