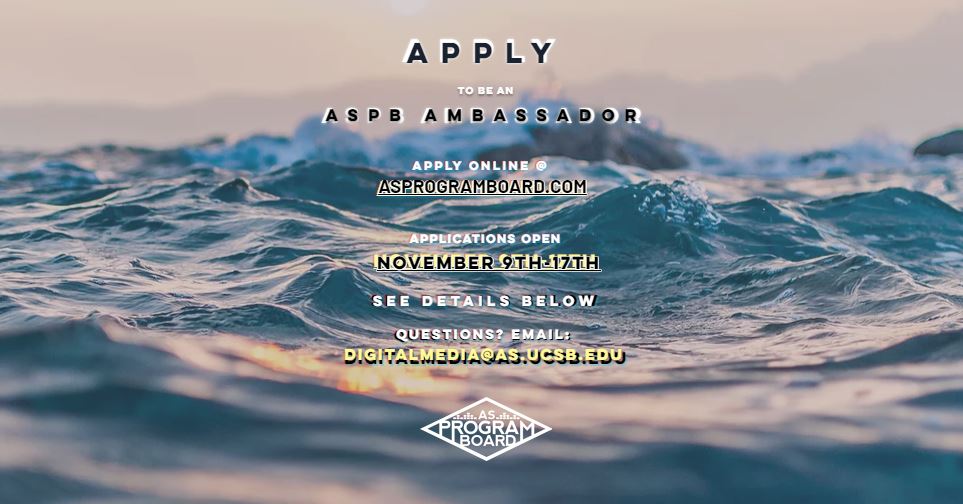 Attention Gauchos!
Looking to get involved at with the team that brings you the biggest events on campus? Want to learn about marketing and publicity tactics? Are you into music? Are you a dedicated, passionate student? If so, you should consider applying to be an AS Program Board Ambassador!
We are looking for outgoing college students to represent AS Program Board through Spring Quarter 2020. As an AS Program Board Ambassador, you will be actively involved in growing awareness of AS Program Board and our many events across your university campus and the social networks that you're involved in. This is an unpaid volunteer role that presents the opportunity to enhance your leadership and marketing skills by representing AS Program Board to thousands of your fellow students.
Qualifications:
-Enrolled student at UCSB
-Interest in marketing, social media, publicity & public relations
-Must have smartphone
Desired Qualifications
-Strong presence on social media
-Excellent people skills
-Passion for all things music
Responsibilities:
– Be passionate about ASPB – Attend 2 marketing meetings each month
– Promote events with provided media by posting on Facebook/Instagram/Twitter/Snapchat
– Provide feedback and new ideas for marketing tactics
– Put up posters around UCSB and Isla Vista
– Tabling for ASPB events
– Spread the word about ASPB events whenever possible
– Post photos on social media before, during, or after attending an ASPB event
– Share our events on social media
– Invite friends to ASPB events on Facebook
Applications will be available online at
asprogramboard.com/ambassador
, Sunday, November 9th at 10:00AM and are due by Sunday, November 16th at 5:00PM.
For questions, please contact: digitalmedia@as.ucsb.edu