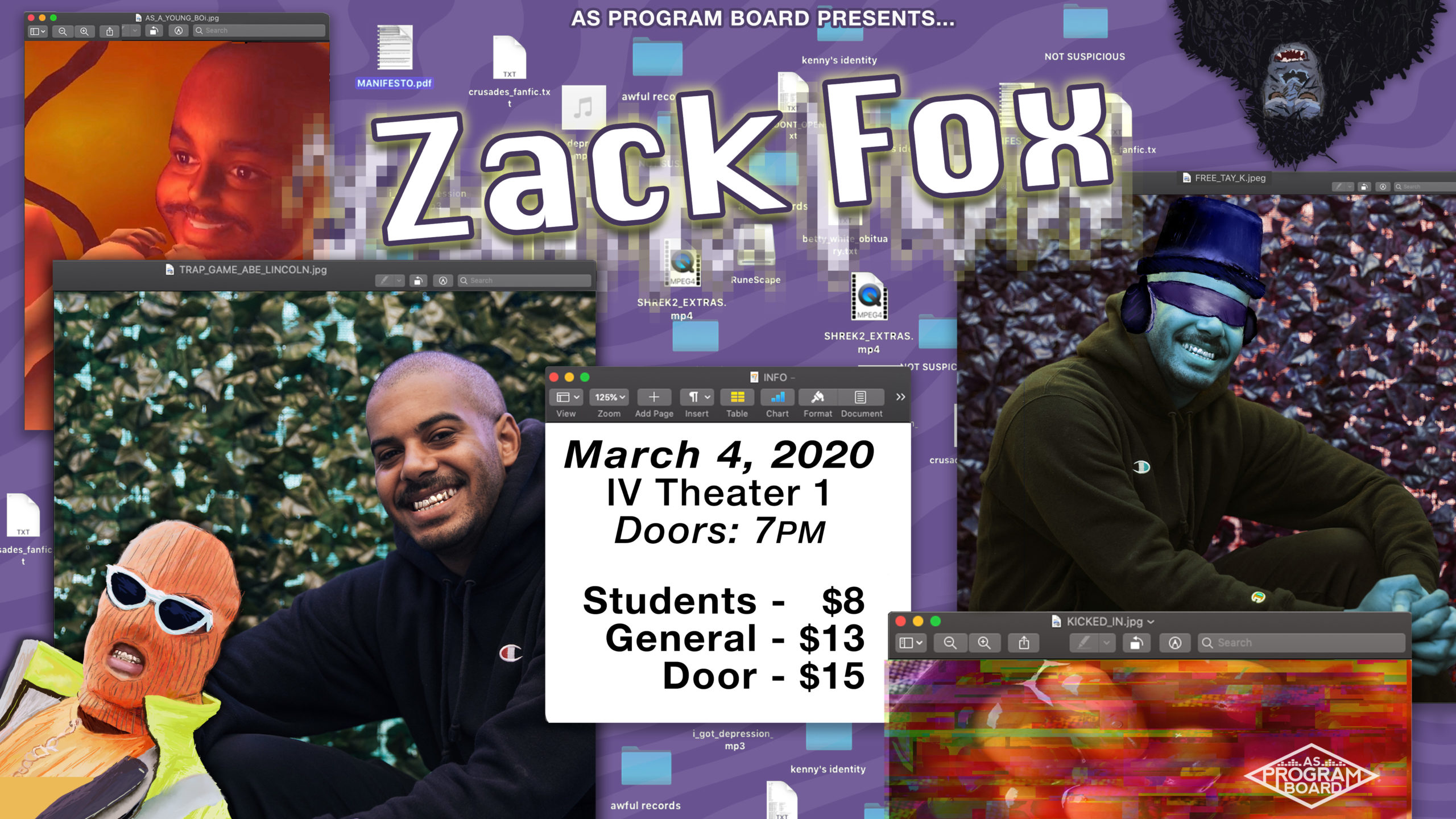 AS Program Board Presents… Atlanta-born & raised, Zack Fox, for a night of laughs.
Ticket Information:
Students ($8)
General ($13)
NOTE: ALL ticket sales at the door will go up to $15
. This event is open to the public. For student tickets, enter your PERM NUMBER as the 'passcode.'
In 2013, Zack Fox first surfaced on Twitter as @bootymath. Now in 2020, Fox is an established writer, stand-up comedian, rapper, and illustrator, amongst other titular roles.
This past summer, Fox climbed to the #1 spot on Spotify's U.S. viral chart… and he didn't intend to nor did he want to. Along with music producer and songwriter, Kenny Beats (our surprise guest for Delirium 2019), Fox quickly slapped together an impromptu single, 'Jesus is the One (I Got Depression),' after featuring on Kenny's YouTube series, The Cave. Neither were planning on releasing the track commercially– until they saw the feedback from the episode. As Shia Labeouf once said, the best comedians spit fire, and Fox is a shining example.
Come spend a night with one of the brightest and most talented personalities in the current media. This event will take place on March 4th, 2020 in IV Theater. Doors open at 7:30 PM, and the show starts at 7:45 PM.
MORE ABOUT ZACK FOX
Instagram
Youtube
Associated Students Program Board is a student-operated non-profit organization funded by lock-in fees that coordinates fun and educational events for the UC Santa Barbara community. Appointed student board members gain hands-on experience in planning, booking, advertising, and running various events ranging from intimate open mics to 12,000 capacity festivals. Some of our more well-known events include Free Tuesday Films, Storke Shows, Delirium, The Warm Up and Extravaganza.